TIVIA Keski-Suomi (TIVIA Central Finland) is an independent association for ICT professionals in Central Finland. Our members work or study different aspects of ICT and digitalization, or utilize different ICT services.
TIVIA Keski-Suomi facilitates networking between our members, provides trainings and act as an independent link between individuals, companies and other associations in the ICT industry.
The association was established in 5.12.1972 as Keski-Suomen tietojenkäsittely-yhdistys ry (Ketky ry), and has changed name in 2019 to TIVIA Keski-Suomi. We are one of the largest regional organisations of the Finnish Information Processing Association, TIVIA, (Tieto- ja viestintätekniikan ammattilaiset ry).
We organise events, which are diverse both in content and attendees:
Company visits
Training and seminars
Culture and Sports
Other recreational events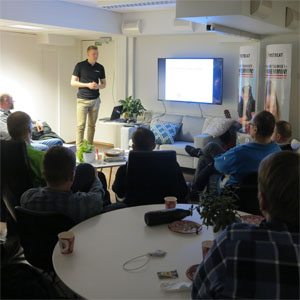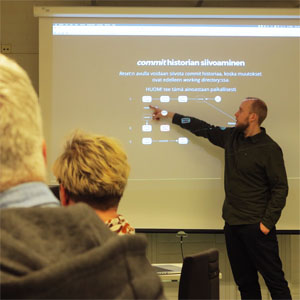 Our events are primarily arranged in Finnish and are free for our members. To some events also non-members can attend, typically associated with a small attendance fee. Read more about our events in the event calendar.
Joining as member is beneficial, since as part of the association you will have a great possibility to affect what kind of events the association arranges. Our members are also members of TIVIA, which means that all members also gain significant amount of benefits from TIVIA. Join now!
In addition to our member activities, TIVIA Keski-Suomi also grants yearly award of recognition related to theses and other works in the ICT industry in Central Finland.
The board of directors, which is selected yearly according to association rules, manages of the activities of the association.